Read Time:
4
minutes
March is an eventful month of the year. Seasons change, clocks spring forward, and it also happens to be an inspiring month when we celebrate Women's history. To keep up with the spirits of the month, we are sharing the latest updates to Workato for transformative experiences you can create for employees, and more.
Creating delightful experiences with SuccessFactors
Effective onboarding and offboarding employees are essential for accelerating organizational productivity. Manual processes lead organizations to spend an excessive amount of time and increase security risks.
Read this blog post to learn how you can create automation with SuccessFactors to create delightful day one experiences, avoid tedious user and access management, improve productivity by getting common HR requests done from Slack, and improve security using automated policies to revoke access when employees depart.
Simplifying user access management for Google Workspace
As an apps admin in Google Workspace, you're busy making your team productive, whether that means creating a user for a new hire, welcoming new people into a group with the right permissions, or other activities.
The newly launched connector for Google Workspace enables you to automate tasks for onboarding, like provisioning identity and access to applications, enforcing custom security policies for the user and group settings, and more.
Don't stop there – create more automations to migrate users from one group to another, and revoke access from apps or transfer data to supervisors when they change jobs.
You can also reduce compliance risks by securely offboarding departing employees, and audit and reclaim unused licenses to reduce license costs
Making API discovery easy
Publishing APIs is the first step to creating a connected enterprise, but publishing alone is not enough. Making the APIs easily discoverable by other parts of your business is critical to API adoption and usage. 
The latest update to Workato's API platform – API library is a big step towards solving this problem. Now developers in your organization can quickly search and browse APIs published by other teams.
The API library also supports auto-generated documentation for users to review, a swagger testing tool for viewing sample data, and test the API endpoints.
Read more to learn how you can publish your APIs to the API library.
Map schemas with one-click
Now you have access to Root-level datapills for all triggers and actions. This is a special type of datapill that is accessible when formula mode is selected in a recipe step input field.
The Root level datapills enable you to ingest the raw output of the trigger or action step as a single datapill instead of having to map the individual elements one at a time.
This is particularly useful for data replication scenarios or schema-less APIs.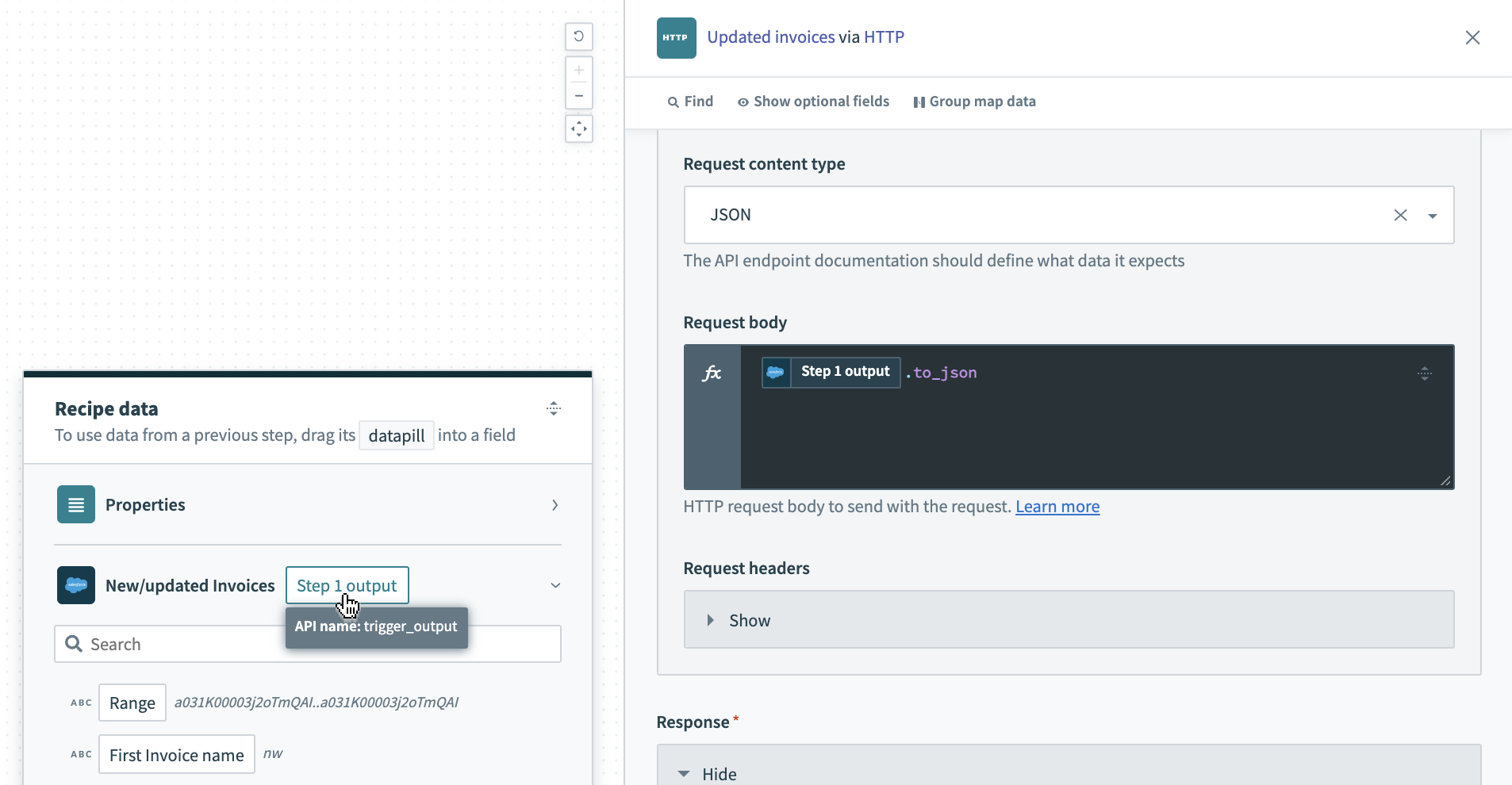 Newly designed recipe cards and filters
We have also made a few UI enhancements to make it easier to work with folders, view the status of recipes, and look through recipe trends.
Organizing folders
Organizing your folders has been made easier. Now,  you have more control over specifying the parent folder.
Simply click on the "+" icon next to the folder where you want to create a sub-folder, and specify the sub-folder name. Want to move it to a different parent? Choose the edit folder action and select the destination parent folder. 
Redesigned recipe cards
The recipe cards also received a design refresh. It gives you a quick overview of the status and when the recipe was created and the last run.
Additionally, take quicker actions with shortcuts to start, clone, edit and delete. 
Enhanced Filtering
Whether you are viewing the health of automation for a specific project or evaluating dependencies for an asset, filters provide a quick way to select the set of data you want to review.  
The latest updates to the filtering tools make improve the readability of the filter conditions applied. The expanded filter view also gives you the ability to expand and collapse hierarchical data e.g. folder structures for quicker navigation and access.
Any feedback or suggestions? Please send them our way at product@workato.com.